Our Founders
1

SR. MARIAM CLARA OF JESUS

SHE WAS ONE OF THE FIRST TWO WHO TOOK FINAL COMMITMENT IN F.C.C. FOR ABOUT 18 YEARS IN DIFFERENT TURNS SHE SERVED AS SUPERIOR. SHE DIED ON 12TH SEPTEMBER, 1918. HER MORTAL REMAINS RESTS IN THE CEMETERY CHAPEL IN ST. MARY'S CATHEDRAL, CHANGANACHERRY.

2

SR. COLLETTA OF JESUS

SHE HAD HER FINAL COMMITMENT IN THE CARMELITE CHAPEL OF CHANGANACHERRY IN 1895 BEFORE BISHOP LAVINGE. SHE TOO WAS THE SUPERIOR OF OUR CONVENT IN CHANGANACHERRY. ON 6TH MAY, 1900 SHE WENT TO START A NEW CONVENT IN KAYALPURAM, IN THE PARISH OF PULINCUNNU. SHE DIED ON 24TH JUNE, 1930. SHE WAS BURIED IN THE ST. MARY'S CATHEDRAL CEMETERY , CHANGANACHERRY.

3

SR. ANNA OF JESUS

SHE WAS A 50 YEARS OLD WIDOW AND SHE FOUND IT HARD TO LEAD A REGULAR RELIGIOUS LIFE. THE BISHOP ALLOWED HER TO LEAVE.

4

SR. AGNES OF JESUS

SHE TOO WENT WITH SR. COLLETTA TO FOUND THE NEW CONVENT IN KAYALPURAM. SHE CAME BACK IN 1902. THOUGH SHE BECAME A T.B PATIENT, SHE WAS VERY REGULAR WITH THE COMMUNITY EXERCISES AND WAS AN EDIFYING EXAMPLE TO OTHERS. SHE DIED ON 29TH JUNE, 1913 AND WAS BURIED IN THE ST.MARY'S CATHEDRAL CEMETERY , CHANGANACHERRY.

5

SR. MARGARITTA OF JESUS

SHE WAS ONLY 20YRS WHEN SHE JOINED. SHE LIVED FOR ABOUT 64 YEARS IN THE CONGREGATION AND DID A LOT OF SERVICE TO PEOPLE. SHE WENT TO START A CONVENT IN KANNADYURUMPU WITH THE HELP OF FR. JOSE MADAPPATTU. ALSO SHE HELPED IN FOUNDING THE CONVENT IN ERNAKULAM. SHE WAS SUPERIOR IN FIFTEEN CONVENTS. SHE USED TO SAY 7 TIMES THE WAY OF THE CROSS DAILY. HER DEEP FAITH, ZEAL, DEVOTION AND LOVE WERE REMARKABLE. SHE DIED ON 2ND AUG., 1951 AND AS BURIED IN THE CEMETERY CHAPEL, ST. MARY'S CATHEDRAL, CHANGANACHERRY.

6

SR. MARIAM THRESIA OF JESUS

SHE HAD HER FINAL COMMITMENT ON 12TH AUG. 1896. SHE WENT TO START A CONVENT IN MANIANKUNNU IN PALAI IN 1902. SHE WAS VERY LOVING TO THE POOR AND USED TO GO FOR BEGGING FOR THEM. SHE DIED ON 22ND NOV. 1932

7

SR. MARIAM OF JESUS

AS A JUNIOR SISTER SHE GOT SOME SKIN DISEASE AND WAS SENT HOME FOR TREATMENT. AFTER PROLONGED TIME TREATMENT SHE BECAME WELL AND CAME BACK. SO CONTINUED HER SERVICE IN THE ORPHANAGE IN CHANGANACHERRY IN LAY DRESS: SHE DIED ON 28TH OCTOBER, 1943. SHE WAS BURIED IN RELIGIOUS HABIT.

8

SR. MARIAM MAGDALENA OF JESUS

SHE WAS THE YOUNGEST IN THE GROUP. SHE MADE HER FINAL COMMITMENT ON 12TH AUG., 1896 AT THE CARMELITE CONVENT CHAPEL IN CHANGANACHERRY. SHE DID A LOT FOR THE GROWTH OF THE F.C.C. SHE HAD A SPECIAL DEVOTION TO OUR LADY AND WAS VERY OBEDIENT AND FAITHFUL TO THE COMMUNITY EXERCISES. SHE WAS VERY KIND, SPECIALLY TO THE ORPHANS. BEFORE DEATH SHE ASKED PARDON FROM ALL HER SISTERS AND WISHED PEACE AND JOY TO ALL. SHE DIED ON22ND JANUARY, 1948 AND WAS BURIED IN CATHEDRAL CEMETERY CHAPEL, CHANGANACHERRY.
CO-FOUNDERS
RT. REV.DR. BISHOP CHARLES LAVIGNE S.J.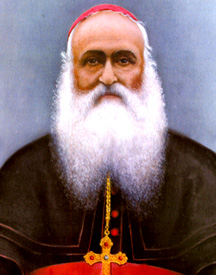 FCC is the first Syrian Christian Women's Congregation of Kottayam Vicarate.The great desire of our pioneer mothers together with his own love for the poor led the first Vicar Apostolica of Kottayam, Rt. Rev.Dr. Bishop Charles Lavigne S.J. to found the Franciscan Clarist Congregation.A new branch of the Franciscan Order which had already spread world wide thus came into existence as F.C.C. at Changanassery in the Kottayam Vicarate in the year 1888.
On 4 October 1890, he together with Rev. Fr. Recardo laid the foundation stone for a new convent named St. Germane's Convent. On 15 June 1891, the feast day of St. Germane, the new convent was blessed and inaugurated.
In the beginning, for three years Bishop Lavigne carried on his services at his headquarters at Mannanam and Edaikkattu Church. But in 1890 with the permission of the Holy See, his seat was shifted to Changanacherry. The Church at Changanacherry was much bigger and it had a large number of Catholics under it. Without delay he started a school for boys. There were 40 boys in the beginning. It was named St. Berchman's School and it was housed in the St. Germane's convent built for the FCC sisters.
After the profession of the sisters, His Lordship made a plan to go to Rome to meet the Pope. He informed the sisters that he would try to get the Pope's blessings and recognition for their Rules and Directory of life. He asked them to recite the Memorare until he returned from Rome. Bishop Lavigne left for Rome on 15 September 1895. In his absence Rev. Fr. Recardo took charge of the affairs of the sisters. By now it was decided from Rome to appoint local Bishops. So it was clear that Bishop Lavigne wouldn't be coming back to India. he was appointed Bishop of Trincomali. He was called for eternal rest on July 11th1913
SOURCE OF INSPIRATION - PUTHENPARAMPIL THOMMACHEN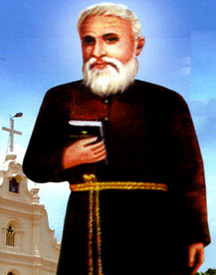 It was St. Francis of Assisi, who followed Christ intimately, who founded the Franciscan Fraternity. The Franciscan III Order is a branch of this Franciscan Fraternity. The Franciscan III Order was established in Kerala towards the end of the 19 century. The Franciscan Clarist Congregation was founded by a group of pious ladies who were members of the III Order.
Franciscan III Order Secular was founded in Kerala by Sri. Thomman Louis Puthenparambil a native of Edathuva under Verapoly Diocese. It was his personal effort that brought the Order all over Kerala. He collected a group of lay men with religious fervour and in 1864 started a life of prayer and penance at the age of 28.Later on, when Mr. Thommachan happened to go through the Constitution of the III Order received from Rev. Fr. Devassia Ottappunnackal, Thottekkadu, he began to live accordingly. In 1868 he received the official habit of III Order from Rev. Fr. Palakkunnel at the Church of Kurumbanadam.
They obtained their Constitution approved from Verapoly Archbishop's house in 1874.The Order could establish about 50 units in the different parts of the Archdiocese due to the efforts of Mr. Thommachan by 1888. In the year 1889, the feast of St. Francis was celebrated at Punthoppe. Bishop Lavigne was also present there for the occasion. He selected Punthoppe as the centre of 10 units and Mr. Thommachan was elected the general leader of the III Order. Mr. Thommachan left for his eternal reward on 1 November 1909.
Thus the Franciscan III Order which was started in Kerala by Mr. Thomman Louis, Puthenparampil became well - established all over Kerala. The unit which was formed in the parish of Palai in 1875 was one of the flourishing units of the III Order. Some of the ladies of this unit wanted to commit themselves to God leading a full Franciscan life. These pious ladies belonged to very ancient and noble catholic families. They had inherited from Mr. Thommachan the real spirit of poverty, simplicity and a penitential life of prayer and penance. They wished to form themselves into a religious community and live a life of deep spirituality. These pious ladies who had deep faith and strong convictions became the pillars on which F.C.C. was built. The role model for these ladies was Mr. Thommachan who by his example and inspiring words strengthened the first mothers in all their problems. He was a source of support and strength for them. He exhorted them to turn to the Eucharistic Lord in all their problems. They could give great witnessing value through their lives by serving the poor and the neglected and engaging themselves in doing humble, hard physical labour.